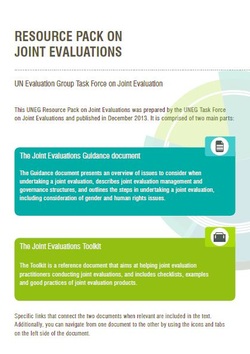 How do you deal with the complexity of collaborating organizations that are on different timelines, with power differentials, and varying levels of data quality? Krishna Belbase of the Evaluation Office of UNICEF introduced the Resource Pack on Joint Evaluations developed by the UN Evaluation Group, at the CES 2015 conference in Montreal. He suggested that it is structured for UN agencies, but could be adapted to suit other organizations. The Resource Pack is a rich resource not only because of the simple yet comprehensive guide it provides for evaluation, but also because of the way it details the governance structures needed to support evaluation in organizations working together on evaluation.
In today's world many evaluations are done with some element of collaboration, and the Guidance Document and Toolkit that make up the Resource Pack can be used to help define the key functions, structures, and questions to ask when determining how to govern evaluation.
The Guidance Document helps tease out the various functions like communication, management, technical input, and logistics. The Toolkit then walks you through the steps from deciding to work together on an evaluation, preparing for the evaluation, implementing the evaluation, to utilizing the outcomes. It addresses sticky issues like readiness and buy-in, and provides advice at every stage from developing terms of reference to disseminating findings.
Do you need a steering committee, management group, reference group, stakeholder group, or advisory group? The Toolkit lays out the considerations for making important decisions about the most appropriate governance structure for your situation. Overall, the Resource Pack on Joint Evaluations is a great resource for any organization looking to support decision-makers and leaders in structuring their governance, and provides tools such as checklists, examples and good practices to evaluation practitioners.
Check out this amazing resource:
Resource Pack on Joint Evaluations